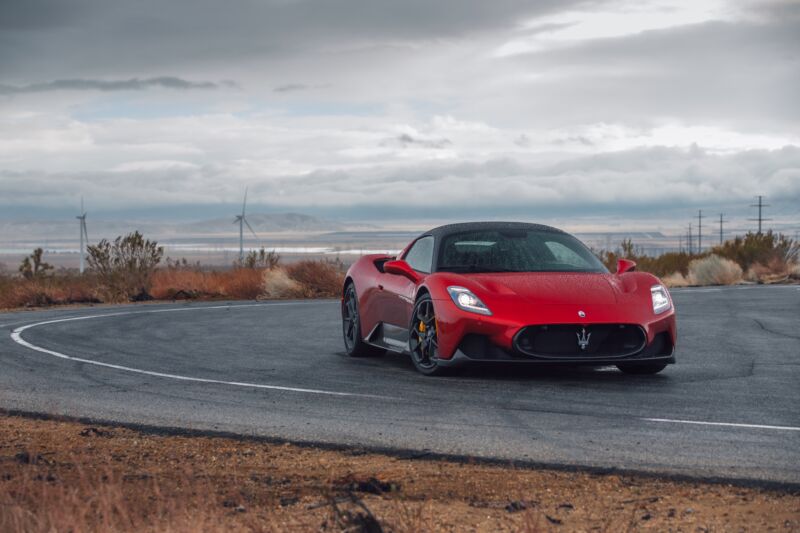 Although the name Maserati is synonymous with exotic performance, the automaker hasn't unleashed a mid-engined supercar on the world in nearly two decades. In the years since the debut of the limited-production MC12 back in 2004, the company shifted its focus toward sedans and sport-utility vehicles like the Levante to reach a wider audience. Lackadaisical development and a liberal pilfering of the Stellantis parts bin, however, had threatened to dilute the brand.
That all changes with the introduction of the MC20. Developed in Modena, Italy, and built from the ground up on an all-new carbon-fiber monocoque chassis designed to accommodate coupe, convertible, and electric configurations, the MC20 shares very little with the rest of the vehicles in the current Maserati lineup. And thanks in part to its "Nettuno" V6, Maserati's new 3,300-pound halo car boasts the best power-to-weight ratio in a segment that includes names like Porsche, Lamborghini, and McLaren.
As with the platform, Maserati engineers took a clean-sheet approach when designing MC20's power plant to create a dry sump engine that's wholly unique to the brand. The mill uses on-demand twin-combustion technology derived from Formula 1 that places a combustion chamber between the central spark plug and the conventional combustion chamber to improve both performance and efficiency, and the resulting peak output is 621 hp (463 kW) and 538 lb-ft (729 Nm) of torque. Those figures make the engine one of the most power-dense in production today, and that grunt is sent exclusively to the rear wheels through the same Tremec eight-speed dual-clutch transmission used in the C8 Corvette, though it has been dialed in for the requirements of the Maserati V6.
Read 10 remaining paragraphs | Comments