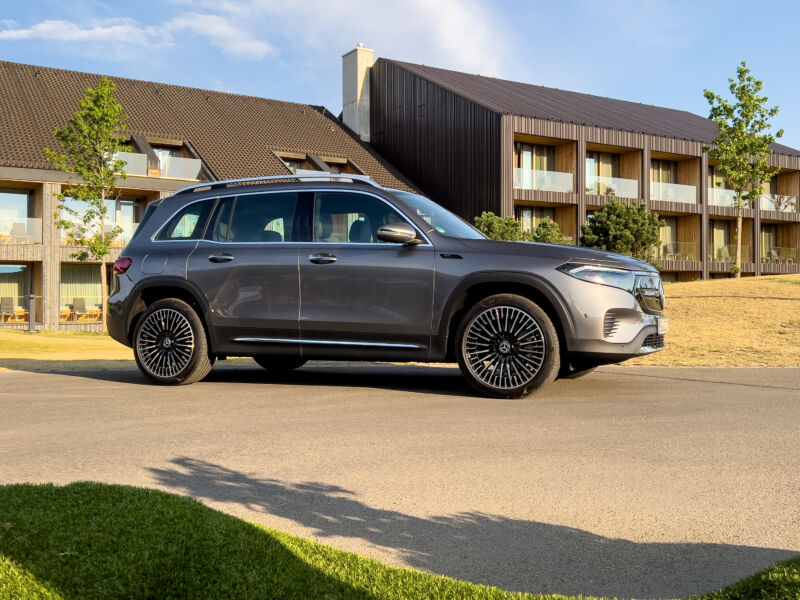 IMMENDINGEN, GERMANY—You have to be very observant to spot the difference between Mercedes-Benz's new EQB electric crossover and its GLB crossover that has been around for a couple of years now. Most obviously, there's that big glossy black panel in place of the traditional grille, now a common feature on all Mercedes EVs, but you'll also note slightly more aerodynamic wheels and the lack of any exhaust pipes, plus the EQ badges on the back, of course. And a look underneath the car reveals a flat underfloor that helps the flow of air around the vehicle in motion.
It's the latest EV from Mercedes-Benz, and it's the cheapest EV on sale to wear a three-pointed star, starting at $54,500.
The biggest difference between the GLB we tested in 2020 and the EQB is the powertrain. Open the hood and you're greeted by a mess of mechanicals, although a closer look reveals this to be the EQB's front electric motor, plus control electronics and HVAC componentry instead of a turbocharged four-cylinder engine. For the US, there's a single choice of lithium-ion traction battery with a useable capacity of 66.5 kWh (70.5 kWh gross), operating at 420 V.
Read 12 remaining paragraphs | Comments