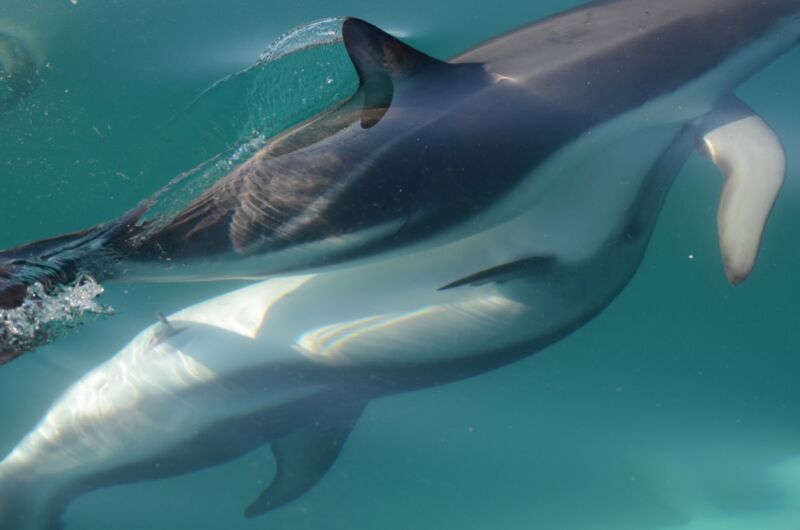 Female dolphins are known to be highly social and engage in all sorts of sexual behavior. In addition to mating with male dolphins, female bottlenose dolphins are, for instance, known to masturbate and also rub each other's clitoris with snouts, flippers, and flukes, suggesting the acts are pleasurable for them. According to a recent paper published in the journal Current Biology, there is now anatomical evidence that the dolphin clitoris is fully functional, remarkably similar in many ways to the clitoris in human females.
It's not just dolphins that engage in what Canadian biologist and linguist Bruce Bagemihl has dubbed "biological exuberance." Same-sex pairings have been recorded in some 450 different species, including flamingoes, bison, warthogs, beetles, and guppies. For instance, female koalas sometimes mount other females, while male Amazon river dolphins have been known to penetrate each other's blowholes. The observation of female-female pairs among Laysan albatrosses made national headlines, prompting comedian Stephen Colbert to warn satirically that "albatresbians" were threatening American family values with their "Sappho-avian agenda." Female hedgehogs may hump one another or perform cunnilingus, while 60 percent of all sexual activity among bonobos takes place between two or more females.
Despite this abundance of behavioral evidence, there have been very few academic studies of the clitoris and female sexual pleasure in nature, according to Patricia Brennan, a marine biologist at Mount Holyoke College in Massachusetts and a co-author of the new study. "This has left us with an incomplete picture of the true nature of sexual behaviors," she said. "Studying and understanding sexual behaviors in nature is a fundamental part of understanding the animal experience and may even have important medical applications in the future." It can also yield insights into the evolution of sexual behaviors.
Read 13 remaining paragraphs | Comments