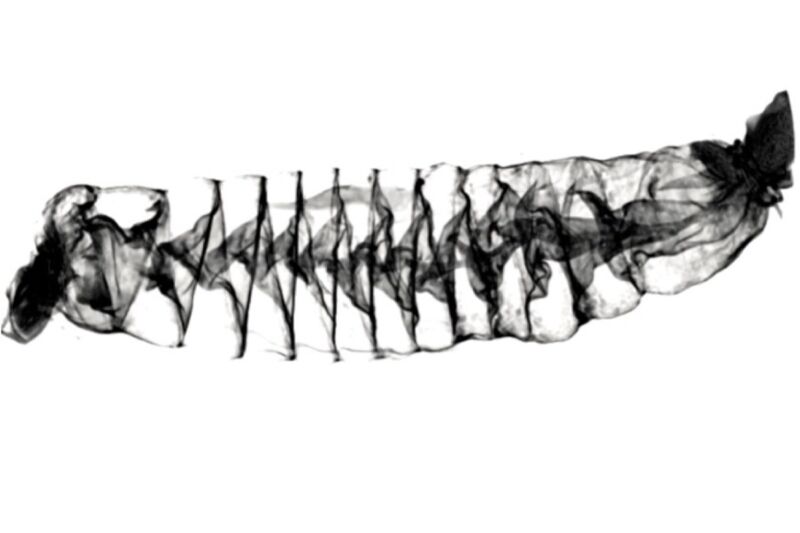 In 1920, Serbian-born inventor Nikola Tesla designed and patented what he called a "valvular conduit": a pipe whose internal design ensures that a fluid will flow in one preferred direction, with no need for moving parts, making it ideal for microfluidics applications, among other uses. According to a recent paper published in the Proceedings of the Royal Society B, the Tesla valve also provides a useful model for how food moves through the digestive system of many species of shark. Based on new CT scans of shark intestines, scientists have concluded that the intestines are naturally occurring Tesla valves.
"It's high time that some modern technology was used to look at these really amazing spiral intestines of sharks," said co-author Samantha Leigh of California State University, Dominguez Hills. "We developed a new method to digitally scan these tissues and now can look at the soft tissues in such great detail without having to slice into them."
The key to Tesla's ingenious valve design is a set of interconnected, asymmetric, tear-shaped loops. In his patent application, Tesla described this series of 11 flow-control segments as being made of "enlargements, recessions, projections, baffles, or buckets which, while offering virtually no resistant to the passage of fluid in one direction, other than surface friction, constitute an almost impassable barrier to its flow in the opposite direction." And because it achieves this with no moving parts, a Tesla valve is much more resistant to the wear and tear of frequent operation.
Read 12 remaining paragraphs | Comments