Amazon's cloud computing business and Apple's Macs are increasingly using the companies' homegrown chips.
Only a few weeks after the successful public offering of Array Technologies proved that there's a market for technologies aimed at improving efficiencies across the solar manufacturing and installation chain, Leading Edge Equipment has raised capital for its novel silicon wafer manufacturing equipment. 
The $7.6 million financing came from Prime Impact Fund, Clean Energy Ventures and DSM Venturing and the company said it would use the technology to ramp up its sales and marketing efforts. 
For the last few years researchers have been talking up the potential of so-called kerfless, single-crystal silicon wafers. For industry watchers, the single-crystal versus poly-crystalline wafers may sound familiar, but as with many things with the resurgence of climate technology investment maybe this time will be different.
Silicon wafer production today is a seven-step process in which large silicon ingots created in heavily energy-intensive furnaces are sawed into wafers by wires. The process wastes large amounts of silicon, requires an incredible amount of energy and produces low-quality wafers that reduce the efficiency of solar panels.
Using ribbons to produce its wafers, Leading Edge's manufacturing equipment uses the floating silicon method to reduce production to a single step, consuming less energy and producing almost no waste, according to the company.
Founded by longtime experts in the silicon foundry industry — Alison Greenlee, a quadruple-degreed graduate of the Massachusetts Institute of Technology who worked on floating silicon method that reduces waste in the manufacturing of silicon for solar cells; and Peter Kellerman, the progenitor of floating silicon method technologies.
The two founded Leading Edge Equipment to rejuvenate a project that had been mothballed by Applied Materials after years of research.
The two won $5 million in federal grants and raised an initial $6 million from venture capital firms in 2018 to kick off the technology.
Leading Edge expects that its equipment could become the standard for silicon substrate manufacturing.
Kellerman, now the emeritus chief technology officer, was replaced by Nathan Stoddard, a seasoned silicon manufacturing technology expert who has worked on teams that have brought three different solar wafer technologies from concept to pilot production. Stoddard, a former colleague of Greenlee's at 1366 — one of the early companies devoted to new silicon production technologies — was won over by Greenlee and Kellerman's belief in the old Applied Materials technology. 
The company claims that its technology can reduce wafer costs by 50 percent, increases commercial solar panel power by up to seven percent, and reduces manufacturing emissions by over 50 percent.
To commercialize the project, earlier this year the team brought in Rick Schwerdtfeger, a longtime innovator in solar technology who began working with CIGS crystals back in 1995. In the 2000s Schwerdtfeger spent his time in building out ARC Energy to scale next-generation furnace technologies. 
"After critical technology demonstrations and the development of a new commercial tool, we are now ready to launch this technology into market in 2021," said Schwerdtfeger in a statement. "Having recently secured a 31,000 square foot facility and doubled the size of our team, we will use this new funding to prepare for our 2021 commercial pilots."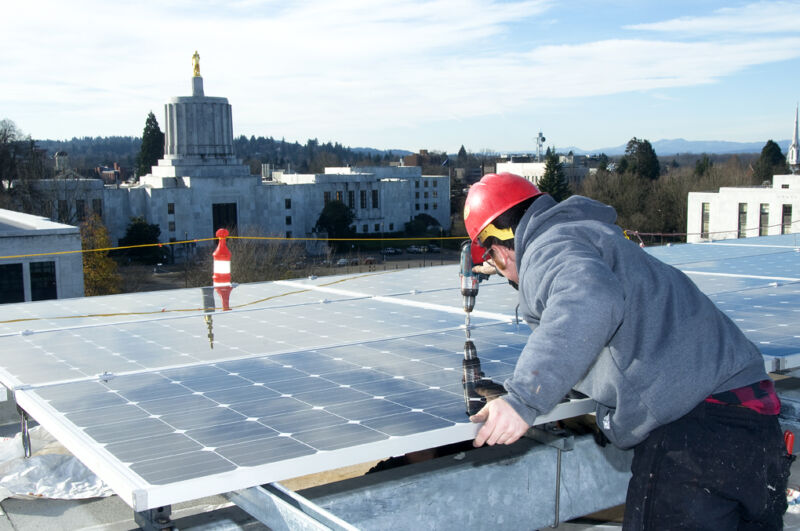 Solar energy is really starting to get its wings, with utility and residential installation growing at a rapid clip. While these systems generally operate for two or three decades, there inevitably comes a time to take photovoltaic panels down for replacement. What happens then has a lot to say about solar's long-term bottom line.
The opportunity is there to turn old PV panels into new ones, reducing the technology's environmental footprint. But in a paper published in Nature Sustainability, a group led by Garvin Heath at the US National Renewable Energy Laboratory argues we have a long way to go—though they think they see the way.
A matter of purity
Currently, they say, standard practice is to hand solar panels to existing glass- or metal-recycling facilities—at best, batches of panels may be at least be run through on their own. That does little more than recover the aluminum in the frame, the copper in the wiring, and the glass sheet atop the photovoltaic cells. Laws mandating panel recycling haven't advanced beyond the drawing board in many places yet, with the European Union and the state of Washington in the US as exceptions. The EU requires at least 75 percent of material to be recovered, and these processes can hit that mark.
Read 8 remaining paragraphs | Comments